163 Organisationen schreiben an den UN-Generalsekretär
Wir fordern die Vereinten Nationen auf, die IHRA-Definition von Antisemitismus zu implementieren
Wir waren Teil von 163 internationalen Organisationen rund um das jüdische Leben, die einen Brief an UN-Gereralsekretär Antonio Guterres unterzeichnet haben. In dem Brief fordern wir die Implementierung der IHRA-Definition von Antisemitismus ins Handeln der Vereinten Nationen.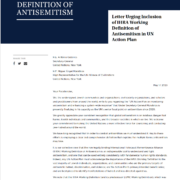 Other Global Organizations
Combat Antisemitism Movement
Commonwealth Jewish Council
Euro-Asian Jewish Congress (EAJC)
HIAS
National Coalition Supporting Eurasian Jewry (NCSEJ)
United Synagogue of Conservative Judaism
Women's League for Conservative Judaism
World Union of Jewish Students
Women's International Zionist Organization (WIZO)
Regional Organizations
Europe
European Association for the Preservation and Promotion of Jewish Culture and Heritage (AEPJ)
B'nai B'rith Europe
Conference of European Rabbis
European Coalition for Israel
European Union of Jewish Students
European Jewish Congress
Forum for Cultural Diplomacy
Latin America
B'nai B'rith Latin America
North America
Jewish Federations of North America
Alpha Epsilon Pi Fraternity
National Communities and Organizations (by United Nations regional group)
East European Region
Albania
Albania Jewish Community
Armenia
Jewish Community of Armenia
Azerbaijan
Baku Religious Community of European Jews
Belarus
Union of Belarusian Jewish Public Associations and Communities
Bosnia and Herzegovina
Jewish Community of Bosnia and Herzegovina
Bulgaria
Organization of the Jews in Bulgaria "Shalom"
Religious Community of the Jews in Bulgaria
Beit Shalom Jewish Educational Foundation Bulgaria
Tzedaka- Shalom foundation – OJB Shalom
Croatia
Coordination Committee of the Jewish Communities in the Republic of Croatia
Czech Republic
Federation of Jewish Communities in Czech Republic
Estonia
Jewish Community of Estonia
Georgia
Jewish Cultural and Education Fund
Hungary
Mazsihisz (Federation of Jewish Communities in Hungary)
Latvia
Latvian Council of Jewish Communities
Lithuania
Jewish Community of Lithuania
Moldova
Jewish Community of Republic of Moldova
Montenegro
Jewish Community of Montenegro
North Macedonia
Jewish Community in the Republic of North Macedonia
Poland
Jewish Community of Poland
Lodge Polin of B'nai B'rith (B'nai B'rith Poland)
Jewish Association Czulent
Romania
B'nai B'rith Romania
Serbia
Federation of Jewish Communities in Serbia
Terraforming
Slovakia
Federation of Jewish Communities in Slovakia
Ukraine
Jewish Confederation of Ukraine
Ukranian Jewish Committee
Latin American and Caribbean Region
Argentina
Asociación Mutual Israelita Argentina (AMIA)
B'nai B'rith Argentina
Bolivia
Circulo Israelita La Paz Bolivia
Brazil
B'nai B'rith Brazil
Confederação Israelita do Brasil (CONIB)
Chile
B'nai B'rith Chile
Comunidad Judía de Chile
Colombia
B'nai B'rith Colombia
Costa Rica
B'nai B'rith Costa Rica
Centro Israelita Sionista de Costa Rica
Dominican Republic
Centro Israelita de la República Dominicana
Ecuador
B'nai B'rith Ecuador
El Salvador
Comunidad Israelita de El Salvador
Guatemala
B'nai B'rith Guatemala
Honduras
B'nai B'rith Honduras
Mexico
B'nai B'rith Mexico
Comité Central de la Comunidad Judía de México
Tribuna Israelita
Panama
Comisión Antidifamación CAD B'nai B'rith (B'nai B'rith Panama)
Congreso Judio Panameño
Consejo Comunitario Hebreo de Panamá
Paraguay
Comunidad Judía del Paraguay
Peru
Asociación Judía del Perú
B'nai B'rith Peru
Uruguay
B'nai B'rith Uruguay
Venezuela
B'nai B'rith Venezuela
Confederación de Asociaciones Israelitas de Venezuela
Western European and Others (WEOG) Region
Australia
Australia/Israel & Jewish Affairs Council
B'nai B'rith Australia and New Zealand
Executive Council of Australian Jewry
Austria
Centropa
Jewish Community Vienna (Israelitische Kultusgemeinde Wien)
Belgium
Le Comité de Coordination des Organisations Juives de Belgique (CCOJB)
CCLJ-Belgium (Centre communautaire laïc juif David Suskind)
The International Jewish Center
Canada
Adas Yeshurun Herzlia
B'nai Brith Canada
Centre for Israel and Jewish Affairs (CIJA)
Jewish Heritage Centre of Western Canada
The Abraham Global Peace Initiative
Denmark
Jewish Community of Denmark
Finland
Central Council of Jewish Communities in Finland
France
B'nai B'rith France
CRIF – Representative Council of Jewish Institutions of France
Ligue Internationale Contre le Racisme et l'Antisémitisme (LICRA)
Germany
Amadeu Antonio Foundation
Central Council of Jews in Germany
Central Welfare Board of Jews in Germany (ZWST)
Deutsch-Israelische Gesellschaft e.V.
German Union of Jewish Students (JSUD)
"Jehi ˈOr" Jüdisches Bildungswerk für Demokratie – gegen Antisemitismus gUG
Jewish Forum for Democracy and Against Anti-Semitism (JFDA)
MAKKABI Deutschland e. V.
Mideast Freedom Forum Berlin
Service Center for Anti-Discrimination North Rhine-Westphalia (SABRA NRW)

WerteInitiative – Jewish-German Positions e.V.
Greece
Central Board of Jewish Communities in Greece
Ireland
Jewish Representative Council of Ireland
Israel
B'nai B'rith World Center – Jerusalem
Centre for Jewish Impact
NGO Monitor
Italy
B'nai B'rith Italy
Union of Italian Jewish Communities (UCEI)
Liechtenstein
Verein Jüdische Gemeinschaft im Fürstentum Liechtenstein
Luxembourg
Consistoire Israelite de Luxembourg
Malta
Jewish Community of Malta
Netherlands
Nederlands-Israëlitisch Kerkgenootschap (NIK) Org. Jewish Communities in the Netherlands
CIDI (Center for Information and Documentation Israel)
New Zealand
Australasian Union of Jewish Students in New Zealand
Beth Shalom Progressive Synagogue
Council of Jewish Women Aotearoa NZ
Holocaust Centre of New Zealand
Nelson Jewish Community Inc
New Zealand Community Security Group Trust
Wellington Jewish Community Centre
Wellington Progressive Jewish Congregation
Zionist Federation of New Zealand
Norway
Det Mosaiske Trossamfunn – Jewish Community Oslo
Other
Gibraltar Jewish Community
Portugal
Jewish Community of Lisbon
Spain
Federation of Jewish Communities of Spain
Sweden
Official Council of Swedish Jewish Communities
Swedish Union of Jewish Youth (Judiska ungdomsförbundet i Sverige, JUS)
Switzerland
Gamaraal Foundation
Swiss Federation of Jewish Communities
Türkiye
The Jewish Community of Türkiye (Turkey)
United Kingdom
Antisemitism Policy Trust
Association of Jewish Refugees
Board of Deputies of British Jews
BICOM (Britain Israel Communications and Research Centre)
Community Security Trust
Jewish Leadership Council
London Centre for the Study of Contemporary Antisemitism
United States1
AMIT Children
AIPAC
Alliance for Academic Freedom
American Friends of Likud
American Zionist Movement
CAMERA (Committee for Accuracy in Middle East Reporting and Analysis)
Center for Righteousness and Integrity (CRINY)
Emunah of America
Endowment for Middle East Truth
Hadassah, The Women's Zionist Organization of America
Indigenous Bridges
Jewish Studies Zionist Network
MERCAZ USA
NA'AMAT USA
North Carolina Coalition for Israel
ORT America
Rabbinical Assembly
Rabbinical Council of America
Religious Zionists of America – Mizrachi
Shields of David
Stop BDS on Campus
Swarthmore Alumni Against Antisemitism on Campus
Telluride Jewish Community
Temple Sinai
Union of Orthodox Jewish Congregations of America
United Teacher Los Angeles (UTLA) Educators Caucus for Israel
Zioness Movement
ZOA
African Region
South Africa
South African Jewish Board of Deputies
Asia-Pacific Region
Cyprus
Jewish Community of Cyprus
Japan
Jewish Community of Japan
Myanmar
Myanmar Jewish Community